Post by Serori Yakedo-Satsumaimo on Jul 20, 2013 3:06:32 GMT -5
:Name:
Serori Yakedo
:Race:
Saiyan
:Gender:
Gender
:Age:
Unknown
:Aura color:
Blue, With white lines sporadically placed in the aura
:Appearance: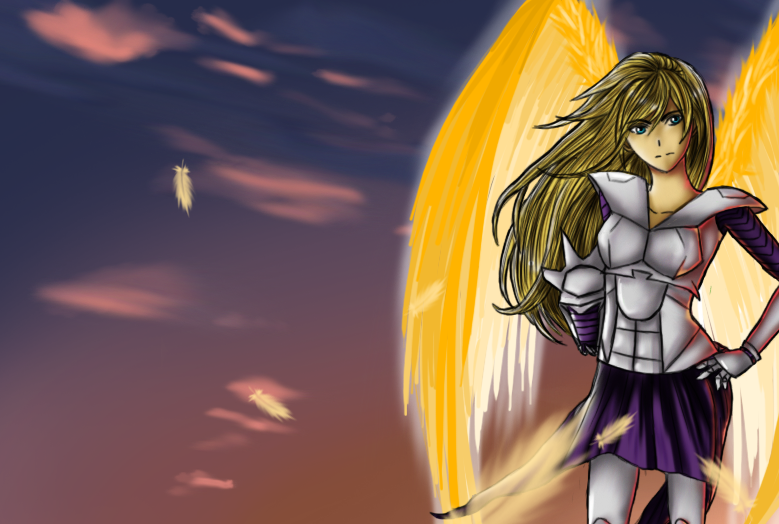 Credit goes to Amaranth Rixoir, a member from the past.
:Techniques:


Bukujutsu

Barrier

Ki Wings- By combining her Bukujutsu and Barrier techniques, Serori is able to "sprout" wings from her back. These purple wings made of ki allow her to fly with more power, and can be used in the same way as a barrier

:Starting Planet:
Vegeta
:History:
(Just read the whole thing, I'll tie everything into the plot, change things so that she doesn't retain her power or anything)
In the days of old, the world was much different. The world, divided into three, leaders great, and also terrible. From Earth, Geurin and Zach, faction: Earth Special Forces. From Vegeta, Boliko Koregutsu and Rensou Hiruen, faction: Saiyan Solar Empire. From Kold, Touketsuki Yakedo and Serori Satsumaimo, faction: World Trade Organisation. Together, these three mighty powers fought, killed, and destroyed. Events led to the death of Touketsuki, and Serori herself took over the throne. Hated by her subjects, hated by her people, and hated by the humans, she was forced to flee, flee into self-exile. Taking her ship, she flew out of the galaxy, using technology from the time to lock the inside of the ship in a time stasis field.
The ship flew through the darkest reaches of space, past suns and unknown planets. Into an area darker than its neighbours, void of any light whatsoever. So dark, in fact, as to be called Negative Light. This was a black hole.
Some people question what really happens to a black hole, how it sucks things into it. Quantum physics dictates that there are an infinite number of universes in which every possibility, every decision that could be made, is happening. Is it possible, then, that a black hole could be a portal into one of these dimensions? Nobody can possibly know.
As the ship enters the area around the black hole, the electronics begin to malfunction. A.I. stammering, lights flickering, and finally, an outage of power. This is when Serori wakes up. Her eyes flutter open, to see nothingness. Hands in front of her face, she can faintly see the outline. Confused, disoriented, she is knocked around the cabin as suddenly her space ship takes a dip, and begins to accelerate. Now, eyes slowly growing accustomed to this blackness, Serori's vision appears to be playing tricks on her mind. Items growing, shrinking, elongating, becoming thin, before she once again blacks out.
When she re-awakens, she finds her ship out of control. All power offline, the ship is headed straight towards a planet she knows all too well: planet Vegeta. There is no way for a proper landing, and the ship was gaining speed as she panicked racking her brain for a plan, anything to save her life. Using telepathy, Barrier, and all the ki she could muster, even ascending to her Super Saiya Jin form, when the speeding metal death trap finally hits the ground, she is alive. Well beaten, barely living, but alive none-the-less.
She has no sense of time in her current state, other than that time was passing, and she wasn't feeling any less in pain. Through nearly closed, blurry eye-lids, she sees a group of men walking over to her. "Stay back from me," she intends to say, but all that comes out is a moan.
"Looks like we got ourselves a live one, boys." The voice sounded mechanic and muffled. Part must have been due to a microphone, the other to Serori's injuries.
"What's an Arcosian doing all the way out here?"
Serori's last thought before blacking out again was questioning what an Arcosian was.
Eyes flutter open once more. She is again in a dark, cold place. 'Story of my life,' she thinks to herself. An aching headache brings the rest of her body to its senses. Arms cuffed to chains, hanging above her, legs chained to the ground. She was on her bottom, legs in front of her, and the chains had slack, enough to move, but not enough to go anywhere. She was still in her armor, which she'd forgotten about until now. Icarian armor made for a Saiyan...made to look like an Icer in fifth form.
Suddenly her eyes opened wide, and she drew in a gasp of air.
These Vegetans! Surely they must have known who she was, in her armor. There was no way that they couldn't have known that she was Serori Yakedo, leader of the WTO. Even in war, she would never be treated like this, lest her people hear of it. She let out a growl, and heard a tink as of someone setting a cup on a plate.
Eyes having adjusted, she saw that she was in a prison cell. Dirt floor, stone walls, and iron bars. From the direction of the iron bars she heard the tap tap tap of boots on a stone floor, and around the corner came what appeared to be a Saiyan soldier. His uniforms did not match those of the SSE, nor any organisation which she had seen before. Confused, she remained quiet as he slowly approached her cell, unlocked the door, and stepped in.
"So...you're awake at last."
"Do you have any idea who I am?" Serori's voice was hoarse, her throat dry. She suddenly realised just how parched and starved she was.
"That is what I was hoping to find out. At first, we thought you were an Arcosian," there was that word again. What did it mean? "And then, after removing your helmet, realised that either you are some half-blooded science project," the Saiyan spat at the word half-blooded, "some sort of spliced DNA of Saiyan and Arcosian." He took a step forward, eyeing Serori hungrily. "Or...or you are a Saiyan who killed one, and took its body for armor, as we found out when trying to remove it. We didn't, obviously, because it would have killed you, and we wanted to keep you alive for...questioning.. We could use someone...strong, like you, in our military."
"The hell is an Arcosian?" Serori had been trying, and failing miserably, to draw in ki energy, break herself out. She put down her failure to her injuries.
"How could you not know? The armor you're wearing is an exact resemblance to one."
"This?" Serori nodded her head down, never taking her eyes off her interrogator. "This was a gift. From my subjects, after your KING," this time it was her turn to spit, although nothing came out. "Killed my husband. I'm sure you've heard of him. Touketsuki Yakedo. And I am his wife, Serori Yakedo." She grinned, although it was more of a grimace, knowing that this would surely strike fear into his heart.
However, the man was nonplussed. He merely raised an eyebrow. "Never heard of either of you. Are you ruler of some asteroid I don't know about?"
Serori growled again at his joke. "I am the empress of the planet Kold, and the World Trade Organisation. You will let me go at once!"
"Or what? You'll rain a meteor on my house?"
She had had enough of his mockery. Violently, she ascended into her Super Saiyan form, opening her palms, pointing them at the man...
And fizzled. Nothing had happened, no attack, no transformation. The soldier nearly laughed.
"Oh my, yes, I must have forgotten to mention. Each of our cells have an orb in them, made of a substance that absorbs ki energy from those left in its presence for too long, eventually weakening anyone to the state of a human baby. Speaking of," he looked at his watch. "Interview time is up for today. I hope I have provided enough incentive for you to think about my offer of joining us. Until next time we meet, Misses, oh, I'm sorry, Miss Yakedo, empress of asteroid Kold." This time, he really did laugh as he departed, slamming the iron behind him, leaving Serori seething, alone.
Weeks passed, as she slowly lost her strength, mind dwindling away. Her interrogator, at first, visited daily, but as he realised they were getting nowhere, began frequenting less and less. Her food portions were also becoming increasingly smaller. She was fading, fast, and would do anything to get out. She actually had two plans formulated.
The first was something she'd been working on for a while. She'd realised that if all she tried to do all day was meditate and draw in energy, she could conserve some, keep some away from whatever device was trying to steal it from her. As the days had passed, she'd slowly accumulated ki until she thought she could escape.
Her other plan, and this one was beginning to look better and better as her body became more strained, was to just join their fucking military. Either way, she had chosen today to be the day she enacts one of them.
As her captor entered, Serori pretended to be asleep. She had been severely weakened while in her cell, but had accumulated just a little power, enough to overwhelm her guard. Her main line of defense, what kept him coming, and getting closer and closer to her, was her assumed weakness. She had to keep her minuscule strength hidden.
"Wake up, maggot."
He slapped Serori across the face, knocking her head into the wall. His words had become increasingly violent as he learned nothing from her, while she had learned some. She'd finally found out about Arcosia, a planet home to a race of aliens called Arcosians, which were some new name for her Icers. The planet Vegeta wasn't run by King Boliko, and had apparently an entirely new government.
Serori opened her eyelids half way, to indicate she was awake and listening.
"I'm keeping this visit short. This is the last time that I'm visiting you, and my final offer for you to join our ranks. I don't know what the hell is wrong with your piss poor brain, and I can tell that you were strong before you landed here. We could also use your armor to study, its strong, sturdy, and a helluva lot better than this shit they give us."
He was in an extremely bad mood today. Serori could see a large welt forming on the side of his head, and darkness spreading around his eye. He must have been in a fight before he came down here. She stayed quiet, as if contemplating.
"So?" he spat in her face. Serori pretended to ignore it.
"What if I say yes?"
His features brightened up considerably.
"Well, you would be dropped into the ranks of the grunts, given time to get back to your full strength. We'll have to place a Control Collar around your neck, but..." Serori interrupted him.
"I don't like that idea." Once again, he took on a stern look.
"You're in no room to like or dislike anything. Besides, until we can figure out what you're about, we'll have to keep a considerably close eye on you. For all we know, you're a spy." Serori could almost laugh, but she played it cool.
"A spy? I don't even know where I am." Her jailer shrugged. "Alright, well, if I refuse?"
"Again, you're in no mood for refusal. If you don't join, we'll just kill you." From the left, came the sound of a door sliding open. Serori could barely hear the words that came from over there.
"This one is general Koregutsu, yes?"
Her heart skipped a beat at the name. There was no mistaking what she'd heard, even if it was just what her mind told her she had heard cause she wanted to hear it. Her excitement threw the guard off.
"Whoa, what the hell? You're excited about being killed?"
"Who's in the cell next door? Who? I could have sworn that they said Koregutsu!" Serori's hurried words were almost slurred, hard to understand, but her jailer understood. His eyebrows slammed down over his eyes, as a light shown from the corridor, and the last fading rays of hope Serori had left. Her emptiness was slowly filled with hatred as she heard the other cell door open, and whoever had just been in there leave.
The guard leaned in close, grabbing her shoulders.
"Do you know Koregutsu? You may have just got yourself in serious trouble, Miss." Serori's head lifted, her eyes full of anger. Using the ki she had slowly gathered, she ripped her arms from the chains that bound them, grabbed her jailers head, and twisted hard. She dropped the dead body. She didn't know what kind of world she'd managed to get herself into, but she knew she didn't like it.
Her last reservoirs of strength were used in a conic beam, slicing open the wall behind her, as she ripped out of the chains around her ankles, and ran. Her body drained itself of energy as she moved, ki behind each kick to the ground. She was well away before the alarm of an escapee were sounded in the city behind her. She had to get away, to escape again.
Delirious, she stumbled upon an old forgotten space pod, in a pile of junk. Wrenching at the door, rust fell in crumbles as she got in, curling up at the bottom, the door closed on its own. She was so drained of strength, all she was capable of doing was to breath, and sob. No tears would come out, as she lay on the ground, curled up. This world, the one she was in, was a horrible world. With her loss of strength, there was no way she'd be able to transform again...not for a very long time, and only if that time was filled with training. That device, that material...whatever it was, it was detrimental. Koregutsu, dead...the idea that it was her Koregutsu stuck in her head, no matter how improbable it was. This..world...
A final blacking out, and Serori slept.
:Items:
200x Zenie
2x Senzu Beans
1x One-Use Space Pod